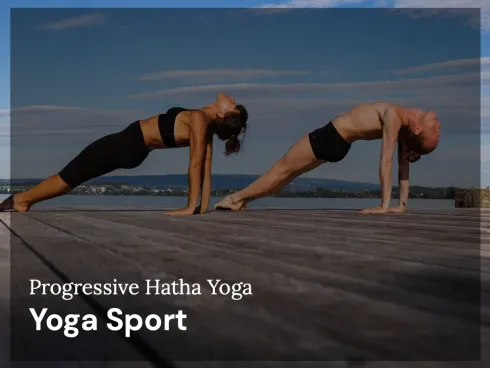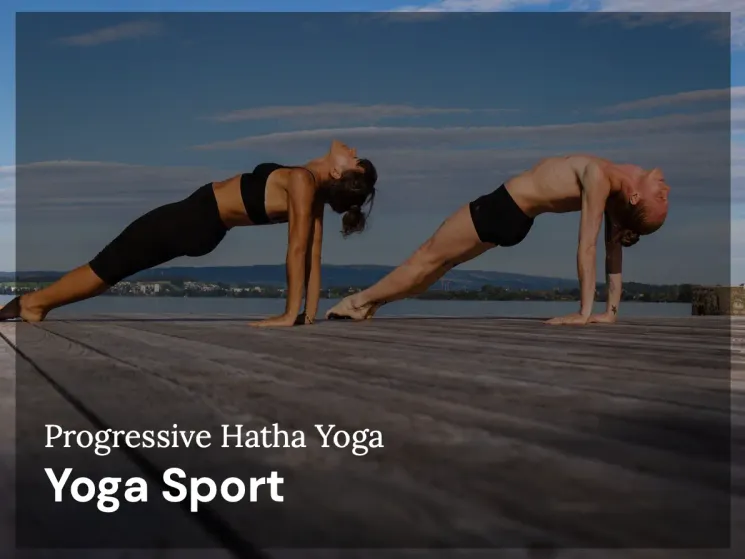 Yoga Sports (Power Hatha Yoga)
Level
Intermediate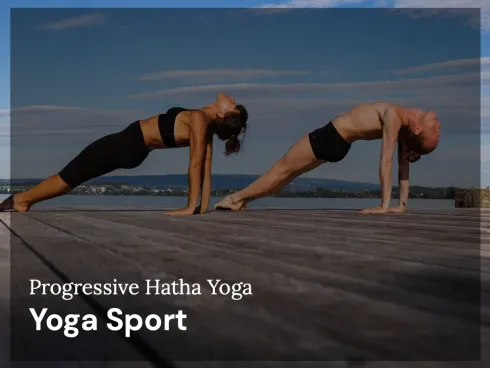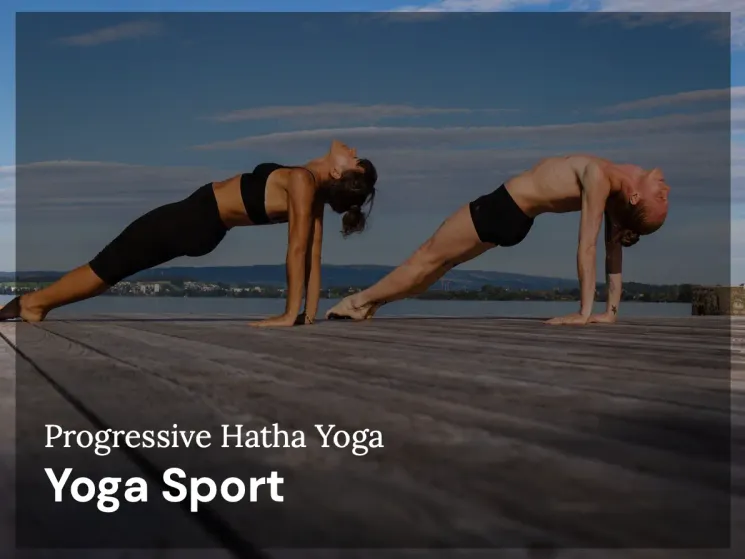 Dein Workout mit Yoga Benefits. Wir sind das erste Studio in der Schweiz das die Yoga Sports Serie anbietet!
Die Yoga Sport Klasse schliesst die Lücke zwischen den 26 grundlegenden Bikram Yoga Positionen (Yoga Sports Beginning Class) und der Praxis der vollständigen Serie von 84 Āsanas (Positionen) der ostindischen Ghosh Yoga Tradition. Die Klasse ist anspruchsvoll, verbessert Dein Gleichgewicht, Deine Flexibilität, Konzentration, Fokus, Kraft und Deine Ausdauer. AnfängerInnen können sicher die Grundform einzelner Positionen praktizieren, während erfahrenere SchülerInnen die Möglichkeit haben, ihre Praxis zu vertiefen.
Yoga Sport verbindet die äussere Kraft des körperbetonten Yoga (Āsana) mit der inneren Meditation durch Konzentration und Atem.
Das erwartet Dich:
Krieger-Serie und Sonnengrüsse zum Aufwärmen
Stehende Ausgleichshaltungen für Entschlossenheit und Willenskraft
Lotus- und Spagatvorbereitungen für tiefe Hüftöffnung
Eine Einführung in die grundlegenden Arm-Balance-Positionen
Eine wirbelsäulenstärkende Serie zur Vorbeugung von Rückenproblemen
Bauchmuskelstärkende Positionen zur Verbesserung Deiner Haltung
Yoga Sports wird in einem leicht beheizten Raum (30-32°C) praktiziert und von Yoga Electronica Beats begleitet. Eine regelmässige Yoga-Praxis wird empfohlen, ist aber keine Voraussetzung für die Teilnahme.
Benefits:
Probier Dich sicher an fortgeschrittenen Positionen aus
Ausdauer, Kraft und Flexibilität
Fördert Fokus und Konzentration
Meditation
Definierter Körper
Was ist Yoga Sport?
Yoga ist eines der sechs philosophischen Systeme Indiens und wird in acht Glieder (Ashtanga) unterteilt. Im Yoga Sport konzentrieren wir uns auf Āsana, die körperlichen Haltungen, dem 3. Glied des Yoga. Āsana erlauben uns, uns äusserlich zu begegnen und unsere innere Arbeit zu überprüfen. Sie befreien, beruhigen und bereiten den Körper und den Geist auf die höheren Glieder des Yoga vor. Regelmässige Praxis führt zu einem bewussteren und erfüllten Leben.
***
Our signature class! We're the first studio in Switzerland spreading the Yoga Sports love.
Our Yoga Sport class bridges the gap between the 26 foundational Bikram Yoga poses (Yoga Sports Beginning class) and the practise of the full series of 84 Āsanas (postures) of the East Indian Ghosh Yoga tradition. It's a fast paced, multi-level Power Hatha Yoga class that will improve your balance, flexibility, concentration, focus, strength and stamina. As a beginner it allows you to remain in earlier expressions of a pose, while more experienced students have the opportunity to take their practise further.
The class unifies the outward strength of postural Yoga (Āsana) with meditation through focus, flow and breath.
Get ready for:
Warrior series and Sun Salutations for warming up
Standing Balancing Postures for determination and willpower
Lotus and Splits Preparations for deep hip opening
An introduction to the basic Arm Balancing Postures
A Spine Strengthening series for postural alignment
Abdominal strengthening poses to improve your posture
Yoga Sport is practiced in a moderately heated room (30-32°C) and is accompanied by Yoga Electronica beats. A regular Bikram Yoga practice is recommended but not mandatory for participating.
Benefits:
Explore deeper variations of poses
Stamina, strength and flexibility
Builds focus and concentration
Open eye meditation
What is Yoga Sports?
Yoga is one of India's six philosophical systems and is divided into eight limbs (Ashtanga). In Yoga Sports we focus on Āsana, the physical postures and 3rd limb of Yoga. Āsana allow us to meet on the outside and verify our inner work. They free, calm and prepare the body and the mind for the higher limbs of Yoga. Regular practice leads to a more conscious, self-loving and fulfilled life.
Date
Friday, June 16, 2023
Time
12:15 PM - 01:15 PM
(60 min)
Baarerstrasse 22, 6300 Zug
Teacher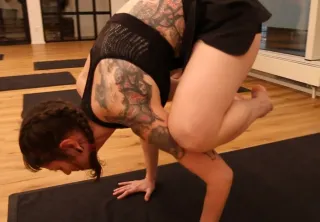 Sandra (DE/EN)
About
Sandra kam 2006 das erste Mal mit Bikram Yoga in Berührung. Von diesem Stil beeindruckt hatte sie das Gefühl an der Urquelle des körperlichen und mentalen Trainings angekommen zu sein. Es entstand eine gewisse Sucht, Yoga zu praktizieren und somit tiefer in die Materie einzudringen. "Yoga ist mein Werkzeug, bewusst Zeit mit mir zu verbringen und das macht mir auch den grössten Spass". Sandra erfuhr, wie das Yoga jedes Mal intensiver wirkte und das möchte sie auch ihren Schülern vermitteln – sich zu motivieren, das Yoga wirken zu lassen, ohne Erwartung oder Ziel, alle Erfahrungen unvoreingenommen anzunehmen und den Weg zu genießen, ohne zu wissen wohin er führt. Erfahrungen – sowohl auf der Yogamatte, als auch im Alltag, das Verarbeiten dieser Erfahrungen, die eigene Selbstwahrnehmung, die Freude an der Zeit mit sich selbst – das ist es, was sich in der Yogapraxis bestens üben und kultivieren lässt. Sandra versucht dafür, den nötigen Rahmen und Raum in ihrem Unterricht zu schaffen. // Sandra first came into contact with Bikram Yoga in 2006. Impressed by this style she had the feeling of having arrived at the original source of physical and mental training. A certain addiction to practising yoga arose and thus to dive deeper into the subject. "Yoga is my tool to consciously spend time with myself and that is also what I enjoy the most". Sandra experienced how the yoga worked more intensely each time and this is what she wants to pass on to her students - to motivate oneself, to let the yoga work without expectation or goal, to accept all experiences without bias and to enjoy the path without knowing where it leads. Experiences - both on the yoga mat and in everyday life, processing these experiences, one's own self-awareness, the joy of spending time with oneself - this is what can be practised and cultivated in the best possible way in yoga practice. Sandra tries to create the necessary framework and space for this in her classes.
Education
- Bikram Yoga Teacher Training (2012) - Level A Coach IYSF - TriYoga Basics Level 2 - Yoga Cure Ghosh College
Pricing options
| | | |
| --- | --- | --- |
| CHF 60.00 | Intro | |
| CHF 42.00 | Single Class | |
| CHF 145.00 | 1 Month Unlimited (Summer Special) | |
| CHF 190.00 | 5 Classes | |
| CHF 350.00 | 10 Classes | |
| | Membership | |
| | Autopay | |
Cancellation policy
Please cancel your participation up to 3 hours before your class starts via the Eversports App. Thank you.
Yoga Sports (Power Hatha Yoga)
Date
Friday, June 16, 2023
Time
12:15 PM - 01:15 PM
(60 min)