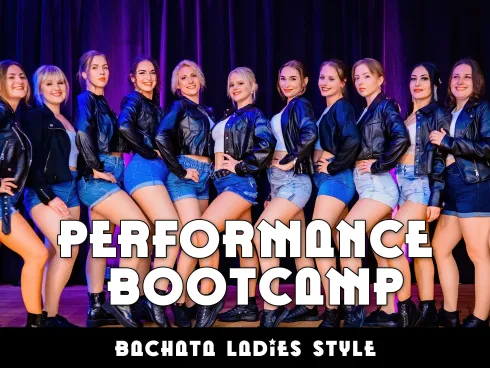 Performance Bootcamp (Ladies Styling)
Level
Intermediate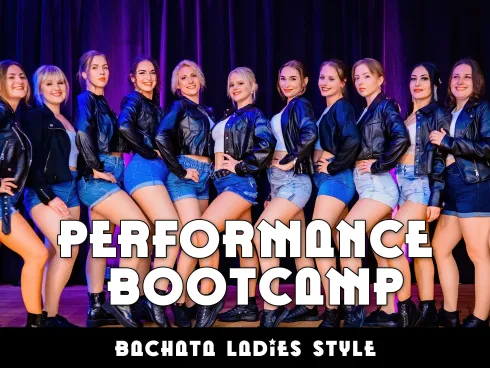 Intermediate Level
Aufgepasst, liebe Ladies! Wir laden dich dazu ein, an einem außergewöhnlichen Performance-Bootcamp unter der Leitung von Christina teilzunehmen. Erlerne eine fesselnde und einzigartige Bachata-Choreografie. Diese außergewöhnliche Gelegenheit ermöglicht es dir, deine Bühnenpräsenz zu steigern, deine Technik zu verfeinern und deine Haltung zu perfektionieren. Entdecke die Kunst, die Bühne zu beherrschen, und ergreife die Chance, uns bei faszinierenden Aufführungen im April 2024 auf dem renommierten Bachata Festival in Stuttgart und weiteren Veranstaltungen in Basel zu begleiten. Beachte, dass zusätzliche Auftrittsmöglichkeiten ebenfalls möglich sind. Verpasse nicht diese Gelegenheit, dein Talent zum Strahlen zu bringen!
Bitte beachte, dass die Kursgebühren ausschließlich die Trainingseinheiten abdecken. Eintrittskarten für Veranstaltungen, Outfits und andere Kosten sind nicht inbegriffen und müssen separat erworben werden.

Kursdaten: 8.11.23-24.04.24, 6 Monatsbeiträge á 85,- CHF

Intermediate Level
Attention, ladies! We invite you to take part in an extraordinary performance bootcamp led by Christina. Prepare to immerse yourself in the enchanting world of dance as you learn a captivating and unique bachata choreography. This exceptional opportunity will enable you to elevate your stage presence, refine your technique, and perfect your posture. Discover the art of commanding the stage and seize the chance to join us in mesmerising performances scheduled for April 2024 at the esteemed Bachata Festival in Stuttgart and further events in Basel. Keep in mind that additional performance opportunities may also become available. Don't miss out on this chance to shine!
Please note that the course fees only cover the training sessions. Admission tickets for events, outfits, and other expenses are not included and must be purchased separately.

Course Dates: 8th November 2023 to 24th April 2024, 6 monthly rates of 85 CHF each.
Date
Wednesday, November 8, 2023
Time
08:45 PM - 09:45 PM
(60 min)
Spalentorweg 11, 4051 Basel
Teacher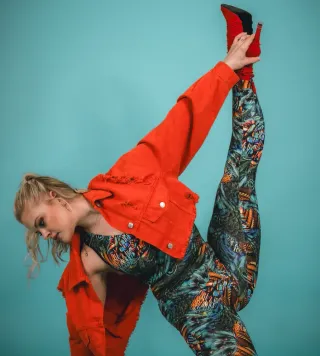 Christina
About
Professional dance instructor, Choreographer, CEO KC dance studio
Pricing options
| | | |
| --- | --- | --- |
| | Performance Bootcamp | |
Cancellation policy
Du kannst deine Anmeldung bis 20 Tage vor Beginn stornieren.
You can cancel your registration up to 20 days before the start.
Performance Bootcamp (Ladies Styling)
Date
Wednesday, November 8, 2023
Time
08:45 PM - 09:45 PM
(60 min)