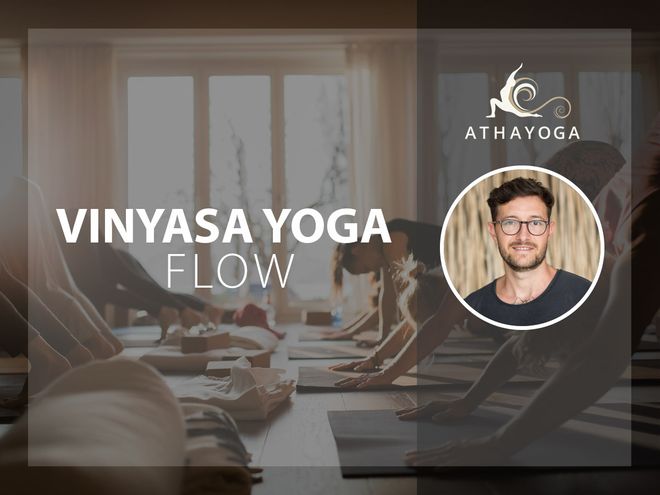 Vinyasa Yoga (EN) - LIVE Stream
Video
Originally live streamed on
Tue, 19/10/21, 19:00 - 20:15 (75 min)
Facility/Studio
ATHAYOGA - Zollikon
Available until
26/06/2022 20:15 o'clock
Price
11.90 CHF
Single ticket
0.00 CHF
DROP-IN Stream REPLAY (FREE)
11.90 CHF
DROP-IN REPLAY
69.00 CHF
3ER TRIAL BLOCK (Probeabo)
89.00 CHF
UNLIMITED 1 REPLAYS | ONLINE
129.00 CHF
5ER BLOCK 60
169.00 CHF
5ER BLOCK ALL
255.00 CHF
10ER BLOCK 60
265.00 CHF
UNLIMITED 1 PREPAID
290.00 CHF
HELLO SUNSHINE ABO
325.00 CHF
10ER BLOCK ALL
1,190.00 CHF
UNLIMITED 6 PREPAID
2,100.00 CHF
UNLIMITED 12 PREPAID
189.00 CHF

/ month

UNLIMITED 12
220.00 CHF

/ month

UNLIMITED 6
265.00 CHF

/ month

UNLIMITED 1
About the class
EN: Vinyasa Yoga Flow is a playful and dynamic style within the classical Hatha Yoga. Vinyasa translates to "arranging in a special way", thus this style of yoga is characterized by creative sequences of traditional asanas, combining them in new ways, that can be surprising or challenging but always approached with a sense of lightness and ease. The constant flow of movement in harmony with conscious breathing creates a unique experience. Level: for experienced and active Yogis.
DE: Vinyasa Yoga Flow ist eine spielerische und dynamische Weiterentwicklung des klassischen Hatha Yoga. Vinyasa bedeutet übersetzt " speziell zusammen stellen" oder "neu zusammenbringen" . So werden im Vinyasa Yoga traditionelle Yoga Asanas immer wieder neu mit einander verbunden - kreativ, fordernd und dennoch mit Leichtigkeit. Dieser Stil zeichnet sich durch fliessende Übergänge zwischen den Asanas aus, so dass das Gefühl eines Flows entsteht, in dem Atem und Bewegung harmonisch koordiniert sind. Level: für erfahrene und bewegungsfreudige Yogis.
About the trainer/teacher
Den Grossteil seiner Jugend verbrachte Kristiano in den Wäldern Italiens, wo er das Wissen und die Fertigkeiten von Naturvölkern erlernte. Zurück in Wien, seiner Heimat, und damit in der Zivilisation war es für ihn an der Zeit, neue Wege zu gehen. So stiess er auf Yoga: zunächst etwas skeptisch, liess er sich von einer Freundin dazu überreden, die Barcelona Yoga Conference zu besuchen. Die erste Einheit war lang, anstrengend und schmerzhaft, am Ende jedoch war es die intensive Erfahrung von Lebendigkeit und Präsenz, die seine Begeisterung entfachte. Seitdem fühlt er eine starke Anziehung, die Wissenschaft hinter dem Yoga zu erkunden und zu studieren. Im Jahr 2016 absolvierte er mit Erfolg seine Ausbildung zum Yogalehrer. Kristiano praktiziert ein modernes und dynamisches Yoga, bei dem kreative Sequenzen und die Schulung der Achtsamkeit im Mittelpunkt stehen. In seinen Stunden finden sich stets Umkehrhaltungen, Armbalancen sowie kraftaufbauende Übungen. Kristiano leitet seine Lektionen auf Deutsch und Englisch.