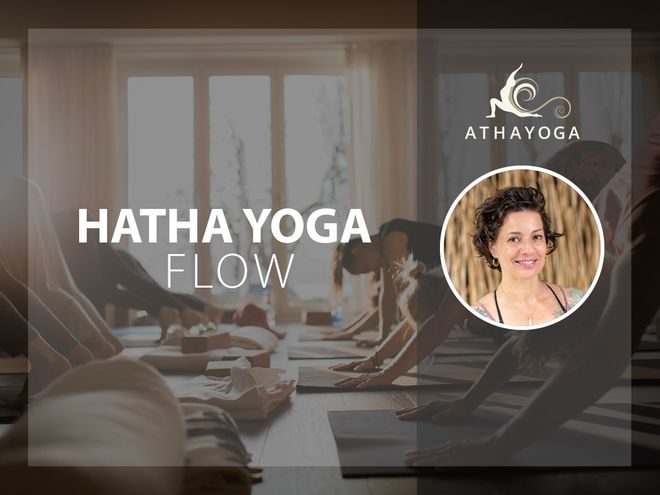 Hatha Flow (DE) - LIVE Stream
Video
Originally live streamed on
Tue, 02/11/21, 09:30 - 10:45 (75 min)
Facility/Studio
ATHAYOGA - Zollikon
Available until
11/01/2022 10:45 o'clock
Price
11.90 CHF
Single ticket
0.00 CHF
DROP-IN LIVE Stream (FREE)
11.90 CHF
DROP-IN REPLAY
18.00 CHF
DROP-IN LIVE Stream
69.00 CHF
3ER TRIAL BLOCK (Probeabo)
79.00 CHF
5ER BLOCK ONLINE
89.00 CHF
UNLIMITED 1 REPLAYS | ONLINE
129.00 CHF
5ER BLOCK 60
169.00 CHF
5ER BLOCK ALL
179.00 CHF
UNLIMITED 1 PREPAID | ONLINE
255.00 CHF
10ER BLOCK 60
265.00 CHF
UNLIMITED 1 PREPAID
325.00 CHF
10ER BLOCK ALL
1,190.00 CHF
UNLIMITED 6 PREPAID
2,100.00 CHF
UNLIMITED 12 PREPAID
179.00 CHF

/ month

UNLIMITED 1 | ONLINE
189.00 CHF

/ month

UNLIMITED 12
220.00 CHF

/ month

UNLIMITED 6
265.00 CHF

/ month

UNLIMITED 1
About the class
DE: Der Hatha Yoga Flow ist eine kreative Weiterentwicklung des Hatha Yoga und zeichnet sich durch fliessendere Übergänge zwischen den Asanas aus. Während die Asana Sequenz dynamisch gestaltet ist, bietet diese Stunde auch viel Raum und Zeit für Atem- und Meditationsübungen, die helfen innere Ausgeglichenheit, Entspannung und Wohlbefinden zu finden. Gemeinsam schaffen diese Elemente ein rundherum harmonisches Erlebnis, sowohl für Körper wie auch den Geist, die dadurch (wieder) in Einklang gebracht werden und so die Grundlage schaffen, dass tiefliegende, vielleicht sogar zuvor verborgene Kräfte ins Bewusstsein gebracht werden. Level: Für alle Levels geeignet.
EN: Hatha Yoga Flow is a creative adaption of the classic Hatha Yoga style and is characterized by more flowing transitions between asanas. While the physical postures are practiced in a dynamic way, this class also offers plenty of space and time to dive deep into meditation and breath work, also called pranayama. This helps you to find more peacefulness, harmony and well-being from within. Together, these elements create a perfectly balanced experience for body and mind - the foundation to tap into the deep sources of energy, making them become more conscious and accessible. Level: Suitable for all levels.
About the trainer/teacher
Monika ist an den Verbindungen und Beziehungen der Dinge zueinander interessiert. Der Yogaweg begann für sie auf der physischen Ebene. Die Selbstbegegnung dabei weckte ihr Interesse am ganzen System. So absolvierte sie 2012-2014 eine Ausbildung in Vinyasa Yoga durch Yoga Alliance RYT 500h und unterrichtet seit 2013 regulär. Um tiefer in die Yoga Wissenschaft einzutauchen, hat Monika nach Satyananda Yoga Nidra™ auch Pranayama und Meditation studiert. Yoga zu unterrichten ist für Monika das Vermitteln bewährter Techniken und die Erfahrung von Einklang, die daraus entsteht. Die Lektionen basieren auf einem fliessenden, dynamischen Vinyasaflow. 
Wie in der Musik sind Rhythmus, Tempowechsel und Pausen sowie das Halten der Positionen wichtige Elemente. Durch Kräftigung, durch Entwicklung von Stabilität und Flexibilität, werden Blockaden des Körpers aufgelöst. Die Achtsamkeit wird mehr auf die innere Erfahrung gerichtet, Energie und Bewusstsein auszudehnen, Klarheit und Einsicht zu erlangen. Das zeitgenössische Wort dafür ist Entschleunigung. Monika lebt mit ihrer Familie in Zürich. Sie hält ihre Lektionen auf Deutsch und Englisch.