Yoga-Wander-Wochenende im Herzen des Berner Oberlands
Starts on Thursday, 23/05/2024
Price from 810.00 CHF
Description:
Gönne Dir ein langes Wochenende in der Lauener Bergwelt - endschleunige und finde Zeit für Dich in liebevollen Yogaklassen, auf wunderschönen Wanderungen und beim Genuss regionaler Spitzenküche.

Dieses Wochenende soll ganz Dir gewidmet sein - erhole Dich, tanke neue Kraft und verwöhn Dich auf allen Ebenen Deines Seins.
Begleite Sabina und Melanie nach Lauenen in der Nähe vom Gstaad ins Hotel Alpenland.
Alle Informationen findest Du hier:
https://www.yogainabag.com/deutsch/workshops-retreats/yoga-wandern-gstaad/
***
Treat yourself to a long weekend in the Lauener mountains - slow down and find time for yourself in loving yoga classes, on beautiful hikes and while enjoying excellent regional cuisine.

This weekend is completely dedicated to you - relax, recharge your batteries and pamper yourself on all levels of your being.

Join Sabina and Melanie to Lauenen near Gstaad at the Hotel Alpenland.
All information here:
https://www.yogainabag.com/deutsch/workshops-retreats/yoga-wandern-gstaad/
Teacher :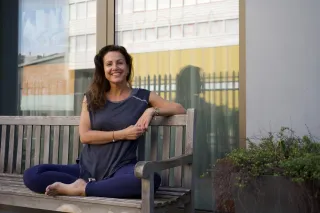 Sabina
Sabina is a yoga student for life and a RYT 500 certified yoga instructor living in the beautiful city Zurich. She walked into a yoga studio in 2010 - the first step of what would prove to be an expanding and exhilarating journey. Inspired by her teachers and international workshops she very quickly became an avid and passionate student. Diving deeper into yoga by completing her teacher trainings and experiencing teaching for a while, she fell in love with the power of sharing her inspiring yoga practice with others. Her profession as a marketing manager in an international environment and a fast forward moving lifestyle industry has been enriching her life in many ways. Traveling the world and meeting people from other cultures is an exciting adventure, which she enjoys on her yoga path too. Sabina's yoga practice will forever be one of her favorite contradictions: Finding Stillness In Movement. * Sabina ist eine Yogaschülerin fürs Leben und eine RYT 500 zertifizierte Yogalehrerin, die in der schönen Stadt Zürich lebt. 2010 betrat sie ein Yogastudio - der erste Schritt einer langen und aufregenden Reise. Inspiriert von ihren Yoga Lehrern, Lehrerinnen und internationalen Workshops wurde sie schnell eine begeisterte und leidenschaftliche Schülerin. Genauso schnell hat das eine zum anderen geführt und sie ist neugierig tiefer in die Yogawelt eingetaucht und hat ihre Teacher Trainings absolviert. Seitdem liebt sie es, ihre Leidenschaft für ihre eigene inspirierende Yogapraxis mit anderen zu teilen. Ihr Beruf als Marketing-Managerin in einem internationalen Umfeld und in einer schnelllebigen Lifestyle-Branche hat ihr Leben in vielerlei Hinsicht bereichert. Die Welt zu bereisen und Menschen aus anderen Kulturen zu begegnen ist ein aufregendes Abenteuer, das sie auch auf ihrem Yogaweg begleitet und ihr viel Freude bereitet. Sabinas Yogapraxis wird für immer einer ihrer Lieblingszitate sein: die Ruhe in der Bewegung finden.
Dates:
| | | | | |
| --- | --- | --- | --- | --- |
| 1. | 23/05/2024 | 13:00 - 21:00 | Hohlstrasse 481, 8048 Zürich | Sabina |
| 2. | 24/05/2024 | 09:00 - 21:00 | Hohlstrasse 481, 8048 Zürich | Sabina |
| 3. | 25/05/2024 | 09:00 - 21:00 | Hohlstrasse 481, 8048 Zürich | Sabina |
| 4. | 26/05/2024 | 09:00 - 13:00 | Hohlstrasse 481, 8048 Zürich | Sabina |
* All prices including VAT