Alpine Hideaway Uri
Starts on Thursday, 26/09/2024
Description:
Verbringe erholsame Tage im "Cortinella - Alpine Hodeaway", einem Ort der Entspannung, der Ruhe, des Krafttankens inmitten der Urner Bergwelt. Auf knapp 1300 Metern über Meer ist «der kleine Hof» umgeben von Wiesen und Tannen.
GYoginis und Yogis atmen hier frische Bergluft, hören Vogelgezwitscher und erblicken ein imposantes Bergpanorama.
Einfach mal Sein mit Melanie und Chris.Alle Informationen findest Du hier:
https://www.yogainabag.com/deutsch/workshops-retreats/alpine-hideaway-uri/
***
Spend relaxing days at "Cortinella - Alpine Hodeaway", a place of relaxation, tranquility, recharging your batteries in the midst of the mountains of Uri. At almost 1300 meters above sea level, "the little farm" is surrounded by meadows and fir trees.
Yoginis and yogis breathe fresh mountain air here, hear the chirping of birds and gaze at an impressive mountain panorama.
Just be - with Melanie and Chris.
All information here:
https://www.yogainabag.com/deutsch/workshops-retreats/alpine-hideaway-uri/
Teacher :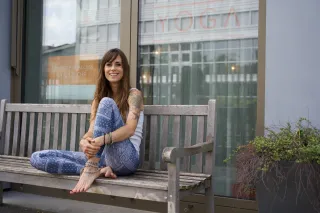 Melanie
Ich bin Melanie Gerber - Ehefrau, Mutter, Yogini, Gesundheitsberaterin und vor allem eine Frau, die sich einer bewussteren, verbundeneren und glücklicheren Lebensweise in unserer modernen Welt widmet. Als liebende, zweifache Mutter und Ehefrau habe ich eine grosse Leidenschaft für gesunde, unkomplizierte Mahlzeiten für die ganze Familie entwickelt. Der Erfolg meines Food Blogs für vollwertige Familienküche und des entsprechenden Kochbuchs, hat mich ermutigt, mich am Institute for Integrative Nutrition, New York zur zertifizierten Gesundheitsberaterin auszubilden. Seither begleite ich Familien und Einzelpersonen auf Ihrem Weg zu einem gesünderen Lebensstil. Wenn ich sehe, wie sie ihre Ziele erreichen und eine bessere Version ihrer selbst werden, fühle ich tiefe Dankbarkeit - jedes Mal. Als jahrelange Yogaübende - ich hatte das Glück, bereits als Kind die Lehren des Yoga kennenzulernen - kenne ich das unerschöpfliche Potenzial der Yogapraxis, den Alltag leichter, glücklicher und sinnvoller zu machen - jeden Tag. Dank den alltäglichen Herausforderungen des Lebens sowie den Lektionen vieler wunderbaren LehrerInnen auf meinem Weg, kenn ich die Magie der regelmässigen Yogapraxis in Kombination mit den Genuss gesunder Ernährung - respektive einem passenden Lebensstil. Ich bin unendlich dankbar für meine langjährigen Yogalehrer Irene Wohnlich und Stephen Thomas, welche wahre Begleiter auf meinem Weg waren respektive sind. Nach Abschluss meines Studiums (Master in Economics and Finance, HSG), hatte ich eine erfolgreiche Kariere im Business Management und Banking, wurde aber das Gefühl nie los, gegen mein authentisches Wesen zu arbeiten. Erst als Gründerin und Inhaberin von Yoga in a Bag habe ich meine Berufung gefunden - meinen Flow. Die Kombination aus Yoga und gesunder Ernährung bewirkt schlicht Wunder. Vom Leben lerne ich jeden Tag dazu, aber meine Vision ist klar - Mittel und Wege zu finden und zu teilen, die uns in unserem modernen, westlichen Leben helfen, bewusster, verbundener und glücklicher zu leben. Meine Herangehensweise ist offen, undogmatisch und mit vollem Herzen. Mein Unterrichtsstil ist kreativ, kraft- und humorvoll. Alle sind willkommen und geschätzt - schlussendlich geht es darum, den nächsten Schritt zu tun. *** I'm Melanie Gerber – wife, mother of two, Yogini & nutritionist and a woman dedicated to the path of conscious, connected and happy living. As a proud mom of two and a loving wife, I'm passionate about healthy, easy-to-prepare food for the whole family. When my healthy-food blog and cookbook took off I decided to become a certified health coach (Institute of Integrative Nutrition, New York) and to support people on their way to living healthier lifestyles. Seeing my clients reaching their goals and becoming better versions of themselves makes me deeply grateful. Being blessed with the teachings of yoga from early childhood, I know about the power of yoga to make life easier, happier and more meaningful. Taught by the daily challenges of family life and many wonderful teachers along the way, I know much about the magic that comes from practising yoga and enjoying healthy food. I am deeply grateful for my long term yoga teachers Irene Wohnlich and Stephen Thomas who were - and Stephen still is - a true companion on this journey. After graduating from university (Master in Economics and Finance, HSG), I had a successful career in business management and banking but I always felt I was working against my true nature. After opening my yoga studio in Zurich – Yoga in a Bag, I found my true calling; my flow. The combination of yoga and healthy food is simply magical. I am learning about life every day, but my vision is clear: to find and share tools suitable for modern life that help us live in more conscious, connected and happy ways. My approach is open-minded, non-dogmatic and full-hearted! My yoga classes are creative, powerful and fun. It's all about taking the next step – everyone is welcome and appreciated.
Dates:
| | | | | |
| --- | --- | --- | --- | --- |
| 1. | 26/09/2024 | 13:00 - 21:00 | Hohlstrasse 481, 8048 Zürich | Melanie |
| 2. | 27/09/2024 | 09:00 - 21:00 | Hohlstrasse 481, 8048 Zürich | Melanie |
| 3. | 28/09/2024 | 09:00 - 21:00 | Hohlstrasse 481, 8048 Zürich | Melanie |
| 4. | 29/09/2024 | 09:00 - 21:00 | Hohlstrasse 481, 8048 Zürich | Melanie |
* All prices including VAT