YOMO - YOga MOves
Starts on Friday, 06/11/2020
Price from 20.00 CHF
Description:
YOMO - YOga MOves combines yoga & dance to a sane, safe and fun way of moving. It helps to mobilize the spine and the joints, releases muscular tension and restores innate mobility and strength.
In YOMO classes, we learn how to move from one yoga posture to another safely and effortlessly. Drawing upon the experience from both yoga and dance practices; we explore how to move in alignment with our bones, joints and muscle structure, building flowy sequences by connecting various yoga moves. The exercises focus on mobility, strength, coordination and relaxation through which our muscles can regain their balance and our bones can find their natural alignment.
Suitable for all body's, Come and join! ⚠️ At the moment in YOMO the motto is: work deep rather than far! We keep it within a 1,50 m radius for each participant and wear masks. Additionally to the ventilation, the windows will be opened every 15min. Let's move sane and safe! But let's move! (1 Nov. 2020)
Deutsch: YOMO - YOga MOves kombiniert Yoga und Tanz zu einer gesunden, sicheren und freudollen Art, sich zu bewegen. Das Training hilft zudem, die Wirbelsäule und die Gelenke zu mobilisieren, löst Muskelverspannungen und stellt die angeborene Beweglichkeit und Kraft wieder her.
In YOMO-Kursen lernen wir, sicher und mühelos von einer Yoga-Haltung in eine andere zu wechseln können. Schöpfend aus meinem Tanz und CAYoga - know-how biete ich Raum und Zeit uns im Alignment und im Einklang mit unseren Knochen, Gelenken und Muskelstrukturen fliessend zu bewegen. Verschiedene Yoga-Bewegungen verbinden sich zu einer Sequenz voll spannender Körpererfahrungen. Die Übungen konzentrieren sich auf Mobilität, Kraft, Koordination und Entspannung, durch die unsere Muskeln ihr Gleichgewicht wiedererlangen und unsere Knochen ihre natürliche Ausrichtung finden können.
Geeignet für alle Körper! ⚠️ Momentan gilt in YOMO das Motto: bewege in die Tiefe statt in die Weite! Alle Teilnehmer*innen bewegen sich in einem 1,50 Radius um sich selbst. Auch tragen wir Masken und die Fenster werden zusätzlich zur Lüftung alle 15min geöffnet. Wir bewegen gesund und sicher aber lasst uns bewegen! (1. Nov. 2020)
Teacher :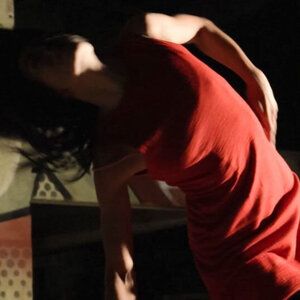 Andrea Boll
Hi! I'm Andrea Boll, choreographer and dancer ever since I came to planet earth. I'm a mother of a son and partner in live to the love of my life. Since almost a decade I live with my family close to Zurich and close to the river and the forest. I make dance pieces for the stage, in public spaces and in nature as well as dance movies and I teach Contemporary Dance, partnering and outdoor training internationally (bollwerk-andreaboll.com). I am as well a certified Critical Alignment Yoga teacher! I practice CAY since the early nineties with CAY - founder Gert van Leeuwen in Amsterdam. Amsterdam / The Netherlands I call 'home' as well since it is where I have studied dance and built my artistic career for over two decades. Throughout this time practicing CAY and studying it, always balanced out and helped me to recover body and mind, to prevent injuries, to achieve great varyarity, range of movement and freedom in my dancing and moving in general. It always lets me come back to a open, curious, 'life long learning' mind-set. CAY let me grow as a person and supports me in interacting with my surrounding in an empathic way. For all that, I'm grateful to Gert and the CAY - community! I am very happy, excited and honoured to be the first CAY - teacher in Switzerland and to offer CAY - group classes and private sessions at Yoga Tribe in Zurich, as well as online classes for those who prefer to practice at home and/or are joining from around the globe!
Dates:
| | | | | |
| --- | --- | --- | --- | --- |
| 1. | 06/11/2020 | 17:30 - 18:30 | Nordstrasse 195, 8037 Zürich | Andrea Boll |
* All prices including VAT