Integral Women´s Health & Yoga Workshop with Sofia Araujo
Starts on Saturday, 28/11/2020
Price from 145.00 CHF
Description:
Integral Women´s Health & Yoga Workshop
Looking into learning more about your female body? Want to adapt your yoga practice to your natural cycle? Are you curious about the new paradigm of feminine leadership?
This inspiring and integrative workshop is a combination of energetic practices and philosophical explorations for women of all backgrounds, to embody their own rhythm, understand the inner landscapes of emotion and thought, as well as the cultivation of awareness, vital energy and self-care as the main ingredients for integral health. The practices draw their inspiration from the traditions of Yoga, Ayurveda, Traditional Chinese Medicine, Taoism, Tantra and Shamanism and aim to reconnect you to your innate wisdom as a woman.
Topics covered: • Qualities and archetypes of the menstrual cycle • Understanding & Balancing PMS • 4 Stages of a Woman´s Life • 5 Elements Yoga to support our cycles and internal organs • Creativity & Sexuality • Hormonal & Emotional Balance • Sound, Mantra and Expression • Yoga sequences for personal practice
Who is this workshop for? This course is for any woman, independent of which phase of life you´re at. The principles are simple to understand and you´ll receive guidance on how to apply it in your daily living. If you are a yoga teacher this is a fundamental workshop so you can transmit these principles to your yoga students and create a community of women embodied in their femininity by the way they move, express and practice self-care. As a woman and yogini, these teachings are pivotal for you to architect change from within your body and to be inspired in creating a space in your family, friends, community where the feminine is cherished, respected and encouraged to blossom.
Costs: 1 day CHF 145 2 days CHF 220
Teacher :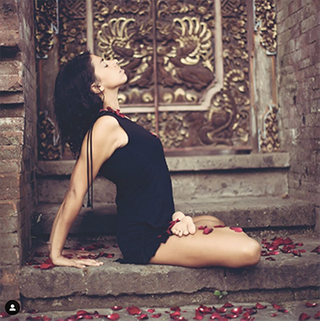 Sofia Araujo
Sofia Araujo is a yoga teacher, therapist, chef and writer that shares an enthusiastic passion for holistic health and movement education. She is trained in the alchemy of the 5 Elements through Yoga, Ayurveda, Macrobiotic Nutrition and Counselling, Ayurvedic Yoga Massage and Chi Nei Tsang (Visceral Massage) with over 1500 hours of certified yoga studies. Her ability to listen people through their movements, breath rhythms and nature cycles is what makes her a skilful yoga therapist, teacher and holistic health counsellor. She offers a view on the human experience that is rich in mindful movement and committed in living in awareness with the principles of Nature. She is the director of international Swara Yoga School and travels extensively, educating people from all backgrounds and nationalities. She has also developed the social entrepreneurial aspect to her business and sponsors several yoga and meditation projects to unprivileged communities in countries like Indonesia, India, Belize, Guinea-Bissau and Nepal. In the last few years she started focusing on developing yoga curriculums and programs for women where she shares her knowledge and experience of 18 years as a yoga student and teacher of teachers. Curating transformative spaces and facilitating the process of recognizing Spirit through the harmony of body and mind sums up what she´s passionate about!
Dates:
| | | | | |
| --- | --- | --- | --- | --- |
| 1. | 28/11/2020 | 13:00 - 18:00 | Eichstrasse 23, 8045 Zürich | Sofia Araujo |
| 2. | 29/11/2020 | 11:30 - 16:30 | Eichstrasse 23, 8045 Zürich | Sofia Araujo |
* All prices including VAT