Another player has just booked for the same time.
Video library
Workshop
Yoga Klasse 105min
Yoga Klasse 60min
Yoga Klasse 90min
Video library
Ayurvedische Kitchary Vitalisierungswoche mit Christina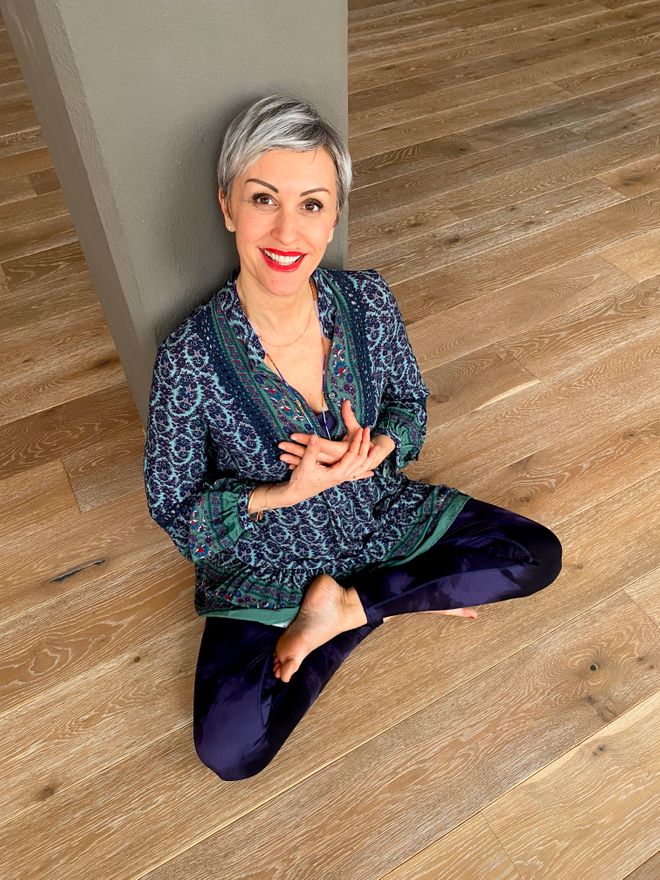 Ayurvedische Kitchary Vitalisierungswoche mit Christina
Video
Availability after purchase
Unlimited availability
Ayurvedische Kitchary Vitalisierungswoche mit Christina
Video
Availability after purchase
Unlimited availability
About the class
Der perfekte Kick-Start in einen leichteren und schöneren und gesunden Frühling
Warum eine Vitalisierungswoche? Der Winter ist die Zeit des Rückzugs und der Regeneration. Wir essen schwerere Kost, kuscheln uns öfters Zuhause ein und verlangsamen den Stoffwechsel. Schnell schleichen sich ein paar extra Kilos auf unsere Rippen und wir fühlen uns schwer und leiden unter «Frühjahrsmüdigkeit». Jetzt ist es an der Zeit unseren Körper zu entlasten, ihm einen Kickstart zu gönnen. In der TCM widmen wir uns der Reinigung von Leber und Gallenblase den dem Frühling zugeordneten Organen. Im Ayurveda dem sanften und gesunden reinigen des ganzen Körpers, dem ankurbeln unseres Stoffwechsels und dem Reinigen des Darms. Bitterstoffe helfen der Leber, Giftstoffe besser auszuscheiden. Die Gallenblase wir durch fettarme und pflanzliche Nahrung unterstützt. Im Gegensatz zu einer Fastenwoche ist eine Vitalisierungswoche sanfter und es ist uns gut möglich den normalen Alltag zu meistern. Die Woche bringt uns in Schwung, wir nehmen uns bewusst Zeit für unseren Körper und unser Wohlbefinden und unterstützen unseren Körper dabei, mit mehr Leichtigkeit und Lebensfreude in den Frühling hinein zu leben. Nach einer Kitchary Vitalisierungswoche fühlst du dich wunderschön und leicht, dein Bauch ist flacher und du strahlst von innen heraus. Zum Kitchary als unsere Hauptnahrungsquelle während der Woche kommen empfohlene Vitalstoffe und Zusätze die optional verwendet werden können. Diese Zusätze sind nicht zwingend, unterstützen aber den gesamten Organismus und helfen dir bei der Entlastung und Entgiftung.
Kitchary ist ein Ayurvedisches Heilgericht, dass sich über Jahrhunderte bewährt hat. Es ist lecker und kann abwechslungsreich gekocht werden. Du bekommst von uns ein Grundrezept, diesem kann bei Bedarf täglich anderes Gemüse zugeführt werden um es abwechslungsreicher zu gestalten.
Die Woche ist vegan.
Was ist im Kurs enthalten
7 Vinyasa Flow Videos à je 60 Minuten mit dem Fokus auf der Entlastung der Leber und Gallenblase, der Reinigung des Darms und der Lymphe sowie der Energetisierung und Vitalisierung des ganzen Körpers. Ein frische Kick für den perfekten Start in den Frühling
Eine Morgen & eine Abend Meditation
Ein Yoga Nidra für die Pausen zwischendrin
Eine 60 Minuten Yin Yoga Session zur tiefen Erholung am Abend
Eine Einführung in die Vitalisierungswoche mit hilfreichen Tipps und Tricks
Einkaufsliste und genauer Beschreib wie die Woche abläuft und wie du dein Kochen, Yoga und alles andere rundherum gut organisierst.
Auf was verzichten wir in der Kitchary Vitalisierungswoche: Kaffee, raffinierten Zucker, Alkohol
Die Vitalisierungswoche kann jederzeit begonnen werden, du übst dein Yoga wann immer du Zeit dafür hast. Nach dem Kauf der Vitalisierungswoche hast du einen Monat Zugang zu allen Videos.
Nimm dir in dieser Woche viel Zeit für dich, buche dir eine Massage oder gönne dir öfters ein Basenbad, mach öfters eine Gesichtsmaske und gönne dir Schönes. Leg dein Handy zur Seite und verzichte bewusst auf Social Media und News. Entschlacken ist ganzheitlich und wir geniessen Zeit für uns.
Kosten: 260.- für alle 11 Videos
About the trainer/teacher
Ich bin die kreative Leiterin und Inhaberin des Studios Planet Yoga.Ursprünglich kam ich durch meine Karriere als professionelle Tänzerin zum Yoga und habe mich in Los Angeles im Yoga West vor über 20 Jahren zur Yogalehrerin ausbilden lassen. Im 2007 habe ich bei Glenn Ceresoli das "Advanced Teacher Training" absolviert. Im 2010 habe ich mich von Paul Grilley zum Yin Yoga Lehrer zertifizieren lassen. Alljährlich führe ich selbst eine 200-stündige von "Yoga Alliance" zertifizierte Yogalehrerausbildung im Planet Yoga durch und habe dabei bereits über 200 Schüler auf dem Weg zum professionellen Yogalehrer begleiten dürfen. Ich unterrichte seit über 20 Jahren Vinyasa & Yin Yoga. Nachdem ich mich in Zürich, London und Los Angeles zur zeitgenössischen Tänzerin ausgebildet habe, zog ich für 8 Jahre nach Los Angeles, wo ich mit Erfolg mein Yogastudio "Yoga Sanctuary" in Venice Beach führte. Das Studio wurde im Jahre 2001 vom L.A. Magazine zum "Best of L.A. Yogastudio 2001" erkoren. Grosse Inspirationen auf meinen Weg waren viele Lehrer, aber im Besonderen: Guru Singh, Yogi Bahjan, Shiva Rea, Brian Kest, Mark Stephens, Erich Schiffmann, Paul Grilley, Lance Schuler, Julie Martin & Glenn Ceresoli Zur Zeit besuche ich einen Diplomkurs in Yogatherapie für bereits erfahrene Yogalehrer im Institut für integrative Heilpraxis in Luzern, um noch tiefer in die Einzelarbeit mit Schülern einzutauchen. Meine Lektionen sind von einer spielerischen Leichtigkeit geprägt, voller Kraft, Dynamik und Lebensfreude. Yoga zu vermitteln ist meine Passion und ich liebe es in meinem Unterricht eine positive und herzliche Atmosphäre zu schaffen, in welcher sich jeder individuell entfalten darf. Technik und Struktur nutze ich um einen Rahmen zu schaffen, meine Kreativität bringt die Abwechslung. Ich bin Mutter eines kleinen Sohnes. Steffi Strehle, Yoga-Schülerin: Christina ist ein absoluter Profi. Sie greift auf einen 20-jährigen Erfahrungsschatz zurück, der sich durch grosse Routine und Gelassenheit in ihrem Yogaunterricht widerspiegelt. Nichtsdestotrotz hat sie ihre Leidenschaft für Yoga und das Unterrichten beibehalten und schafft es, diese auf ihre Schüler zu übertragen. Ihre Klassen sind körperlich herausfordernd und trotzdem von Leichtigkeit geprägt, da sie routiniert zu jeder Zeit genau weiss, was sie tut und immer den Überblick behält. Besonders bei Christinas Unterricht finde ich, dass sie durch ihre langjährige Erfahrung vieles gleichzeitig und scheinbar mühelos tun kann: Asanas ansagen, Besonderheiten der jeweiligen Übung näher beschreiben, durch den Raum gehen und Schüler korrigieren, sie findet Zeit, durch Textzitate und Vorlesen Denkanstösse zu geben und das immer mit einem Lächeln im Gesicht. Mir gefällt vor allem der 'rote Faden' der sich 90 Minuten durch Christinas Unterricht zieht und der ihre Kassen auszeichnet. Ganz kurz zusammengefasst, könnte man Christinas Unterricht mit einer guten Geschichte vergleichen: Einleitung, Hauptteil, Höhepunkt, Schluss. Man schliesst das Buch ein bisschen glücklicher mit einem Lächeln im Gesicht, ein wenig wehmütig, weil es vorbei bist, aber mit Vorfreude auf die nächste Geschichte des Autors.
Sign up
Still don't have an account? Register
Reset password
Do you already have an account? Login
Register
Do you already have an account? Login
* All prices including VAT