Yogeswari - Art of Vinyasa Krama
Starts on Sunday, 12/06/2022
Price 75.00 CHF
Description:
Location: Sanctuary, Zollikerstrasse 74, 8008 Zürich Early bird discount price 75 CHF / after May 31 normal price 90 CHF
Description: Vinyasa is commonly known as a vague concept of "Flow Yoga." In this workshop, we will go more deeply into the esoteric meaning of Vinyasa Krama, and how to execute it with precision, both on the mat and in life.
More about Yogeswari: www.yogeswari.org www.azaharfoundation.org
Teacher :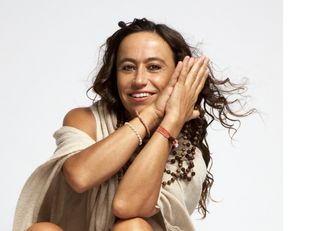 Yogeswari
(E) Yogeswari, based in Switzerland and New York is a world-renowned Jivamukti Yoga teacher and is one of the most senior teachers in the method. She taught 20 years at the Jivamukti Yoga School in New York City. Yogeswari is featured as one of the 100 most influential Yoga teachers in the US by Sonima. She is Advanced Certified, a Facilitator of Jivamukti Teacher Trainings, and has taken many Jivamukti Certified Teachers through one-on-one apprenticeships towards their 800-hour-certification. Since 2004, she has been teaching around the world. Yogeswari is known for her vigorous, seamless Vinyasa sequencing, and her thought-provoking philosophical teachings. With 20 years of experience in dance and choreography, she brings liveliness and vibrancy to all her work. She holds an MA in choreography and dance from New York University and a BFA McL in dance from Temple University, Philadelphia. Born in Switzerland, she teaches workshops, immersions, and retreats in five languages around the world. She is the founder and president of AZAHAR Foundation, an international non-profit organization that promotes cross-cultural understanding and non-violent conflict resolution through Yoga and the Arts, with special attention to disenfranchised communities, and women and children in conflict settings. more info: www.yogeswari.org and www.azaharfoundation.org. (D) Yogeswari ist in der Schweiz geboren und eine der erfahrensten und anerkanntesten Lehrerinnen von Jivamukti Yoga. Seit dem Jahr 2000 unterrichtet sie mehrheitlich an der Jivamukti Yoga School in New York. Gemäss 'Sonima' zählt sie zu den 100 einflussreichsten Yogalehrenden in den USA. Sie ist Advanced Certified (fortgeschrittenes Zertifikat) und Leiterin der Jivamukti Teacher Trainings und hat unzählige Schülerinnen und Schüler in deren 800-Stunden Ausbildung begleitet. Seit 2004 unterrichtet Yogeswari rund um den Globus Workshops, Immersions und Retreats in fünf Sprachen. Sie ist bekannt für ihre kraftvollen, fliessenden Vinyasa-Abfolgen, gespickt mit yoga-philosophischen Inspirationen. Yogeswari bringt mit ihrer 20-jährigen Erfahrung in Tanz und Choreografie Lebendigkeit und Schwung in all ihre Tätigkeiten. Sie hält einen MA in Choreografie und Tanz von der University of New York sowie einen BFA McL in Tanz von der Temple University in Philadelphia. Darüberhinaus ist sie die Begründerin der AZAHAR Foundation, einer internationalen NPO, welche interkulturelle Zusammenarbeit und gewaltlose Konfliktlösung durch Yoga und darstellende Kunst fördert, mit einem speziellen Fokus auf entrechteten Gemeinschaften und Frauen und Kinder in konfliktreichem Umfeld. Für weitere Informationen siehe auch www.yogeswari.org und www.azaharfoundation.org.
Dates:
| | | | | |
| --- | --- | --- | --- | --- |
| 1. | 12/06/2022 | 15:00 - 18:00 | Zollikerstrasse 74, 8008 Zürich | Yogeswari |
* All prices including VAT