30h Immersion Workshop mit Vivianne
Online stream
Starts on Saturday, 10/04/2021
Price from 270.00 CHF
Description:
Praktizierst du schon länger Yoga und möchtest tiefer in die Materie eintauchen? Oder liebäugelst du sogar damit ein Teacher Training zu machen? Dann ist die 30h intensiv Immersion mit Vivianne genau das Richtige für dich.
An drei Wochenenden wird jeweils vertieft ein Thema zusammen bearbeitet sowie intensiv Yoga praktiziert.
Lerne Neues oder festige vorhandenes Wissen und lass dich von der Yoga Welt und deren Themen inspirieren. Diese Immersion wird dir einen erfrischenden Schwung in deine eigene Praxis geben und dir Raum lassen, um mehr zu lernen.
Wochenende 1: Datum: 10./11. April 2021 Schwerpunkt: Yamas & Niyamas
Wochenende 2: Datum: 24./25. April 2021 Schwerpunkt: Chakras
Wochenende 3: Datum: 08./09. Mai 2021 Schwerpunkte: Selfcare / Funktionelle Bewegung / Achtsam mit deinem Körper umgehen um Verletzungen möglichst vorzubeugen
Für jedes Thema wird ein Manual erstellt, welches wir dir vorgängig zukommen lassen.
Online stream
There is an online stream available for this activity. To participate, take the following steps:
This studio uses Zoom as their streaming provider to online stream their activities. Download the according software or app to your laptop, tablet or smartphone.
The access to the online stream is available 15 minutes before the start of the activity. You can find the link for the online stream in your online profile under "My bookings". With a click on "Join online stream now" you will be forwarded to the corresponding page and you join the activity online!
Specific streaming providers, e.g. Zoom, allow participants to see each other through the video camera. If you do not want to show yourself or the personal environment, you can deactivate the camera function or cover the camera. The name you enter when you join the online meeting room will be shown to other participants. However, you can change your name at any time (e.g. only specify the initials).
Teacher :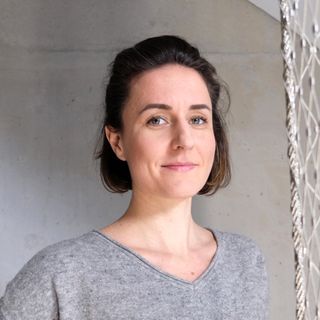 Vivianne
VIVIANNE BEI YOGACULTURE: Gründerin von YogaCulture Wir fangen klein an, werden grösser und stärker und sammeln dabei Erfahrungen, um uns weiterzuentwickeln. Spüren wir achtsam in uns hinein, erkennen wir die Richtung. Bewegung bedeutet für mich mehr als nur den Körper gesund zu erhalten, es ist eine Transformation, um eigene Emotionen zu spüren und ihnen Raum zur Entfaltung zu geben. Alle sollten von diesem wundervollen System vom Einklang des Körpers und Geist profitieren können. Mein Unterricht ist vielseitig inspiriert, jedoch stets mit der Genauigkeit und der lebensbejahenden Art des Anusara Yoga. Vivianne unterrichtet auf Deutsch, Französisch und Englisch.
Dates:
| | | | | |
| --- | --- | --- | --- | --- |
| 1. | 10/04/2021 | 12:00 - 17:00 | Tramstrasse 2, 8050 Zürich | Vivianne |
| 2. | 11/04/2021 | 12:00 - 17:00 | Tramstrasse 2, 8050 Zürich | Vivianne |
| 3. | 24/04/2021 | 12:00 - 17:00 | Tramstrasse 2, 8050 Zürich | Vivianne |
| 4. | 25/04/2021 | 12:00 - 17:00 | Tramstrasse 2, 8050 Zürich | Vivianne |
| 5. | 08/05/2021 | 12:00 - 17:00 | Tramstrasse 2, 8050 Zürich | Vivianne |
| 6. | 09/05/2021 | 12:00 - 17:00 | Tramstrasse 2, 8050 Zürich | Vivianne |
* All prices including VAT