Rückbildung Yoga + Pilates | Fr 08.01.-26.02.21 |12.15-13.15 | 7x 1h
Online stream
Starts on Friday, 08/01/2021
Price 220.00 CHF
Description:
Fühle und stärke deine Mitte und entspanne Schultern, Nacken und Gedanken. Für alle Frauen nach Geburten, die im Einklang mit ihrem Beckenboden, Rücken und Bauch sein möchten.
Es werden Übungen aus dem Yoga und Pilates, gepaart mit Pranayama und Schlussentspannung praktiziert. Dieser Kurs ist aufbauend und wird von Woche zu Woche immer ein wenig intensiver.
Wenn dein Baby keinen Hütedienst hat, bringe es bitte jederzeit mit. Sonst ist es auch schön einfach mal unter Frauen zu üben.
Kursraum und Zuhause via Zoom-Meeting + Aufzeichnung Devi Yoga, Beaumontweg 12, 3007 Bern
Online stream
There is an online stream available for this activity. To participate, take the following steps:
This studio uses Zoom as their streaming provider to online stream their activities. Download the according software or app to your laptop, tablet or smartphone.
The access to the online stream is available 15 minutes before the start of the activity. You can find the link for the online stream in your online profile under "My bookings". With a click on "Join online stream now" you will be forwarded to the corresponding page and you join the activity online!
Specific streaming providers, e.g. Zoom, allow participants to see each other through the video camera. If you do not want to show yourself or the personal environment, you can deactivate the camera function or cover the camera. The name you enter when you join the online meeting room will be shown to other participants. However, you can change your name at any time (e.g. only specify the initials).
Teacher :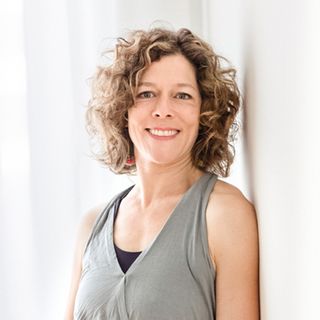 Claudia
Ich bin Mutter von drei Kindern. Nach meiner Ausbildung zur Bewegungspädagogin, gab ich während einigen Jahren Bewegungs- und Tanzkurse für Kinder, Frauen und geistig behinderte Menschen. Durch meine Schwangerschaften und Geburten inspiriert, verspürte ich den Wunsch, Frauen während dieser Zeit zu Begleiten. 2012 schloss ich die Ausbildung Birthe Care ab und gebe seitdem Schwangerschaftsyoga- und Rückbildungskurse sowie private Geburtsvorbereitung. Der Unterricht ist von meiner langjährigen Yogapraxis geprägt. Das liebevolle, achtsame Üben verbunden mit dem Atem ist mir wichtig. Seit dem Jahr 2000 praktiziere ich Yoga. Von Anfang an war ich fasziniert von der tiefen, ganzheitlichen Wirkung. Eine neue spirituelle Welt eröffnete sich mir! "Gib dich dem Fluss des Atems hin. Er trägt dich in das Meer des Glücks." Hans Christoph Neuert
Dates:
| | | | | |
| --- | --- | --- | --- | --- |
| 1. | 08/01/2021 | 12:15 - 13:15 | Beaumontweg 12, 3007 Bern | Claudia |
| 2. | 15/01/2021 | 12:15 - 13:15 | Beaumontweg 12, 3007 Bern | Claudia |
| 3. | 22/01/2021 | 12:15 - 13:15 | Beaumontweg 12, 3007 Bern | Claudia |
| 4. | 29/01/2021 | 12:15 - 13:15 | Beaumontweg 12, 3007 Bern | Claudia |
| 5. | 05/02/2021 | 12:15 - 13:15 | Beaumontweg 12, 3007 Bern | Claudia |
| 6. | 19/02/2021 | 12:15 - 13:15 | Beaumontweg 12, 3007 Bern | Claudia |
| 7. | 26/02/2021 | 12:15 - 13:15 | Beaumontweg 12, 3007 Bern | Claudia |
* All prices including VAT