DAY RETREAT | YOGA, SOUND & BRUNCH | SUNDAY, MAR 12th 2023
Starts on Sunday, 12/03/2023
Price 150.00 CHF
Description:
DAY RETREAT | YOGA, SOUND & BRUNCH | SUNDAY, MAR 12th 2023
Sarah, Jen and Alex are looking forward to welcoming you on Sunday, March 12th for the March Edition of the DAY RETREAT. Enjoy a recharging Sunday full of movement, breathing, brunching and sharing good vibes.
Our morning will start with a gentle yoga flow and Meditation with Sarah. We will then get to experience the magic of sound waves, by enjoying a Soundful Breathing sound bath by Jen. Afterwards we connect, share and get to know each other better over some yummy plant-based brunch by EATbyalex accompanied by good music.
We are excited to welcome you for the DAY RETREAT!
Love, Sarah, Jen & Alex
PROGRAM
Yoga and Meditation by Sarah
Soundful Breathing Sound Bath by Jen
Brunch and Bubbles by EATbyalex
WHEN
Sunday, March 12th, 2023 at 10am-2pm
WHERE
Private location Zurich City or nearby (location will be communicated a few days before the event)
PRICE
CHF 150.-
Earlybird price CHF 130.- till February 26th

ABOUT US
SARAH | YOGA & TRAPEZE ZURICH
Sarah is a passionate yoga teacher who loves to inspire and support others to find more balance in life. Her strong belief in the transformative power of yoga, for the mind and the body, is at the core of each practice. Following her heart and passion of teaching yoga Sarah founded her own label Yoga & Trapeze Zurich in 2017 under which she offers a wide variety of yoga, suitable for all practitioner levels. Her aim is to help you through yoga – including meditation, breath work and mindful movement – to find a deeper connection to yourself, so you can live with an open heart and enjoy a fulfilled and happy life. www.yogatrapezezurich.ch
JEN | SOUNDFUL BREATHING & THE90MINRETREAT
Jen is a singer, certified Sound Healing Facilitator, Meditation Coach, and Yoga Teacher (RYT 200). She offers a number of experiences and practices that – through Sounds, Vocal Release, Guided Breathing & Visualisations and Movement – brings peace, calm and clarity to the busy mind and body – letting you reap the same benefits as in deep meditation, even if you've never heard of meditation before, or fall asleep in the process. "Soundful Breathing isn't gonna miraculously rid you of all your problems, but it will bring you calm and bliss, even in days filled with chaos and uncertainty." www.soundfulbreathing.space
ALEX | EAT BY ALEX
Alex is the founder of Eat by Alex. She launched it in Zurich in 2018 with the dream and on a mission to empower people to add more plants into their lives for a more sustainable planet and for a stronger & body. With her clean eating concept, Alex's goal is to support people to make a positive change into their lifestyle by creating new habits. No need to plan, shop or cook anymore. Alex and her team of chefs are doing it for you by delivering fresh, ready-to-eat and healthy meal plans to your home. www.eatbyalex.com
Teacher :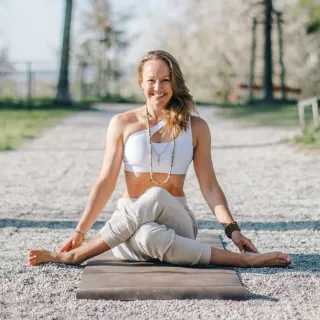 Sarah Malär
Dates:
| | | | | |
| --- | --- | --- | --- | --- |
| 1. | 12/03/2023 | 10:00 - 14:00 | SECRET LOCATION | Zurich or nearby, 8000 Zürich | Sarah Malär |
Cancellations
Can be cancelled up to 5 day prior to the event with no costs. Cancellations less then 5 days but up to 3 days prior to the event day will be charged with 50%. Cancellations 3 days prior to the event and less will get no refund. Exception is if we can fill the space with a person on the waiting list than you get 100% refund.
* All prices including VAT